SAND and RJAH working to embrace a culture of inclusion for aging LGBTQIA+ community
Posted: 8 Jun 2023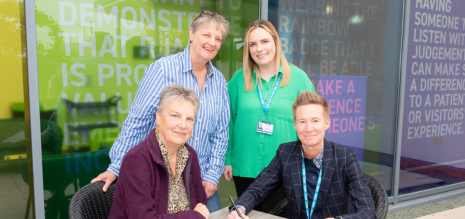 Shropshire's specialist orthopaedic hospital and Safe Ageing No Discrimination (SAND) have joined together in a bid to support the ageing lesbian, gay, bisexual, transgender, queer, questioning, intersex, or asexual (LGBTQIA+) community, this Pride month. 
The Robert Jones and Agnes Hunt Orthopaedic Hospital (RJAH) signed a covenant with the charity, committing to understand and respond to the needs of older LGBTQIA+ people in Shropshire, Telford and Wrekin. 
Stacey Keegan, Chief Executive, signed the covenant on behalf of the Oswestry-based hospital.  
She said: "I am delighted to have signed SAND's covenant on behalf of the hospital – it's vital we consider and act on the needs of the ageing LGBTQIA+ community, and even more fitting we were able to coincide this occasion with Pride Month, which is celebrated annually in June. 
"The covenant consists of five pledges, which we have committed to at RJAH." 
The pledges are:  
Providing the best possible quality services for older and old LGBTQIA+ people;

 
Learning what life can be – and has been – like for different LGBTQIA+ people;

 

Vocally and visually supporting groups working with and for older and old LGBTQIA+ people;

 

Creating meaningful opportunities for LGBTQIA people and groups to influence;

 

Assessing and evidencing change, including work carried out to engage with LGBTQIA+ people.

 
Stacey added: "Our next steps will include building a network of staff across the organisation to act as SAND Champions – these champions will undergo specialist training which will open their heart and mind to understand the needs of the community so they can effectively signpost and support both staff and patients as required." 
SAND was formed in response to the American documentary film Gen Silent, which highlighted the feats and experiences of older LGBTQIA+ people when accessing care services. 
The not-for-profit aims to influence the way in which LGBTQIA+ people, and those who care for them, to experience – and expect to experience – ageing, identifying and addressing the barriers that impact on LGBTQIA+ wellbeing in later life; bringing about change in organisations' working practice and embedding that change in policy. 
Sue Gorbing, Director at SAND, said: "It still amazes us that many people haven't considered the existence of older and old people who identify as LGBTQIA+. 
"If we are serious about providing personalised care, it's vital that our service providers across the county are aware of and sensitive to the needs of this community." 
Other organisations which have already signed the Covenant include AgeUK Shropshire Telford and Wrekin, Citizens Advice Shropshire, Wrekin Housing Group, Shropshire Council and Severn Hospice, among more. 
For more information, please visit the SAND website at: www.lgbtsand.com. Alternatively, the team can be contacted at info@lgbtsand.com or on 01743 590023.