Join us now! RJAH makes call to clinicians for Recruitment Day
Posted: 12 Jan 2023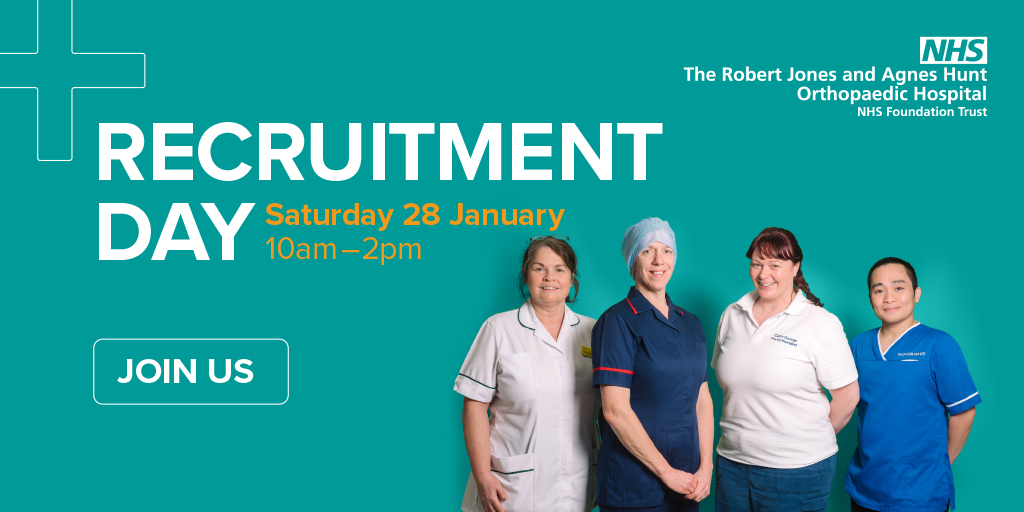 Clinicians are being offered the opportunity to work at one of the top hospitals in the country – as The Robert Jones and Agnes Hunt Orthopaedic Hospital prepares to throw open its doors for a special recruitment day.

The Oswestry-based hospital is inviting Registered Nurses, Theatre Practitioners, Operating Department Practitioners (ODPs), Radiographers, Occupational Therapists, and Physiotherapists to come forward for the event taking place on Saturday 28 January (10am to 2pm).

Candidates will be able to talk to staff and tour areas of the site, getting an insight of what it is like to work in an organisation rated outstanding for care by the Care Quality Commission and delivering the best overall patient experience in the NHS (according to the latest National Adult Inpatient Survey).

Registered Nurses, Anaesthetic/Theatre Practitioners and ODP candidates will even have the opportunity to interview on the day for a role if they wish, providing they apply via NHS Jobs so that we can make contact in advance. To apply, go to:



Stacey Keegan, Chief Executive at RJAH, said: "This is a fantastic place to work, and I am extremely proud of the incredible feedback we get from our patients, who tell us regularly about the huge impact we make on their quality of life.

"The NHS as a whole has been facing a recruitment challenge and we are not immune from that, so we are putting some real energy into trying to strengthen our clinical teams.

"This recruitment day is part of that, and I look forward to welcoming clinicians from across the disciplines who will hopefully become future members of Team RJAH."

The Recruitment Day will be staged in the Main Entrance at the specialist orthopaedic hospital, where there will be stands for the different professions as well as information about research at RJAH and the learning and development offer for new recruits.

There will also be tours of different areas of the site, including a chance to see our Theatre facilities and visit our new £6 million Headley Court Veterans' Orthopaedic Centre. The eye-catching veterans' building includes a state-of-the-art simulation lab which will be open for demonstrations at the event.

There is no need to book in advance – unless you are a nurse or ODP wishing to undertake an interview on the day, in which case you are asked to complete an online application form via NHS Jobs.

Stacey added: "Anyone coming to the Recruitment Day will be able to see our modern facilities, and appreciate the investment we have been able to make in recent years to improve the experience for all our patients.

"We have a detailed plan for further investment in the coming years, to include new Theatre facilities and an expansion to our already ground-breaking veterans' centre.

"So if you're a clinician looking for a new challenge at a forward-thinking Trust, then please put the date in your diaries now. We look forward to meeting you."

To find out more about working at RJAH, visit www.rjah.nhs.uk/work-with-us.