'End of an era' as RJAH Vaccination Centre closes its doors
Posted: 1 Mar 2023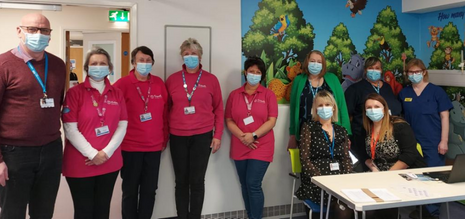 A Covid-19 Vaccination Centre at Shropshire's specialist orthopaedic hospital has closed its doors for the final time – after administrating more than 150,000 vaccinations. 
The Vaccination Centre at The Robert Jones and Agnes Hunt Orthopaedic Hospital (RJAH), near Oswestry, which first opened in January 2021, saw members of the local community and health and social care staff visiting to receive their vaccinations. 
Rebecca Warren, a nurse who led the team at the RJAH Vaccination Centre from start to finish, described the closure as 'the end of an era'. 
Rebecca, who also held an operational management role within the wider vaccination service for Shropshire, Telford and Wrekin, said: "Over the course of 25 months, we administered exactly 157,464 covid-19 vaccinations, including first and second vaccinations and booster jabs. These were given to vulnerable groups all the way down to those who are just five years old. 
"I've met so many fantastic people during my time as part of the Vaccination Centre, and it's been an awesome experience to say the least." 
Rebecca acknowledged how important teamwork was to ensure the success of the Vaccination Centre.  
She said: "There are so many groups of people to thank, starting with the North Shropshire Primary Care Network, who ran the centre in partnership with RJAH in the early days, for their support. 
"I also must say a big thank you to our League of Friends and the awesome volunteers who volunteered at the Vaccination Centre. They helped us ensure patients were safe by wearing masks and sanitising, as well as directing patients around the centre. We simply could not have done it without them. 
"My final thank you is to the staff who all came to work with us – including the RJAH Consultant Surgeons. Initially, we had many staff members give up their days off, evenings and weekends to support.  
"Everyone who was part of the vaccination effort should be enormously proud of how hard they worked and what they achieved." 
The deadline for receiving your Covid-19 booster has now passed. However, first and second doses are still available through the evergreen offer. Please come forward if you haven't had either of these doses.  
It's important you protect yourself, those you work with and care for as well as looking after your family.  
To find a clinic, please visit - https://www.shropshiretelfordandwrekin.nhs.uk/your-health/covid/covid-19-vaccinations/