Arscott Golf Club raises over £1,000 for Alice Ward Garden appeal at RJAH
Posted: 23 Nov 2022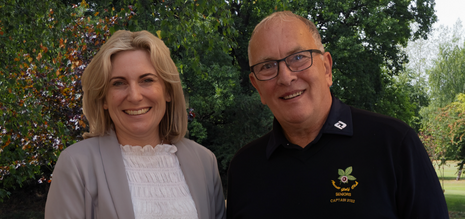 A Shropshire golf club has raised over £1,000 for The Robert Jones and Agnes Hunt Orthopaedic Hospital's (RJAH) current fundraising appeal – Garden for Alice.  
The Captain of Arscott Golf Club (GC) Seniors named the appeal, which will fund a beautiful, inclusive, sensory garden for paediatric patients and their families at Shropshire's specialist orthopaedic hospital, as their worthy cause of the year of 2022, raising £1,100 for the campaign. 
The golf club and its 90 members hosted a range of fundraising events to support the cause including a Christmas lunch, competitions and three golf away days.  
Nigel Easton, Arscott GC Seniors Captain, said: "In September 2017, I had successful bilateral knee replacements undertaken at RJAH, and went from enduring intense frequent discomfort to being healthy and pain free. 
"As a way of saying thank you I decided to contribute something positive back to the hospital – when I heard of the Garden for Alice appeal it stood out as such a worthy cause and I'm extremely pleased we have been able to support the fundraising with a donation of £1,100." 
Alice Ward is the dedicated children's unit at the Oswestry-based hospital which provides specialist advice, diagnosis and treatment for children between 0 – 18 years old with bone, joint and muscular disorders. 
Victoria Sugden, Charity Director, said: "We are so grateful to Nigel and everyone at Arscott GC for their kind support and generosity. The children of our Alice Ward deserve an engaging and attractive space to play, learn and spend time in.  
"Arscott GC have helped get us closer to our fundraising target to make our plans a reality – thank you to everyone concerned." 
To find out more about the Garden for Alice appeal and to make a donation you can visit the dedicated JustGiving campaign: https://www.justgiving.com/campaign/gardenforalice  
If you would like to discuss any fundraising ideas for the campaign, contact RJAH Charity directly: 
Call – 01691 404401

 

Email – rjah.fundraising@nhs.net